CREATING A WORLD WHERE ALL CHILDREN TRAVEL SAFELY TO AND FROM SCHOOL

Every day over 500 children around the world are killed in road traffic crashes.
2011-2020 is proclaimed Decade of Action for Road Safety by the United Nations (UN) and yet the number of global road traffic deaths continues to climb, reaching 1.35 million in 2016.

Road traffic injury is now the leading cause of death for children and young adults aged 5–29 years.
The Decade of Action for Road Safety encourages multisectoral collaboration to reduce the risk of road traffic deaths by guiding decision-makers through five key areas known as the Five Pillars of Action, with the aim of forming a comprehensive road safety strategy. The Five Pillars incorporate a number of different approaches that can be implemented simultaneously for maximum effect.

As a society, we have a moral obligation to make travel safe for our young people.
This toolkit aims at supporting every FIA member in planning and carrying out school road safety assessments aligned to two of the Five Pillars of Action (Infrastructure and Behaviour) to inform advocacy and interventions to save lives and serious injuries.
ROAD SAFETY PILLARS OF ACTION

The safety of children walking on roads near schools is a major concern. Yet the traffic conditions and properties of the roads that affects the safety of a journey to school are known.
Star Rating for Schools (SR4S) guides the assessment of each of these features using evidence-based research to establish their impact on safety. The least safe locations are rated as 1-star, the safest are 5-stars. The United Nations has set as Global Road Safety Performance Targets 3-star or better new roads for all road users (Goal 3), and more than 75% of travel on the equivalent of 3-star or better roads for all road users by 2030 (Goal 4).
Star Rating for Schools was awarded a prestigious Prince Michael International Road Safety Award in December 2018, recognising the application's huge potential to reduce risk and save the lives of pedestrians worldwide. SR4S has been developed thanks to the generous support of Founding Sponsor FedEx, Major Donor FIA Foundation and Lead Partners, and is made safer by iRAP.
Star Rating for Schools:
Measures safety before and after road improvements
Provides an evidence-based rating of road safety
Supports education campaigns for students, drivers and the wider community for safe travel around schools
Guides decision-makers in prioritising road infrastructure upgrades around schools by assessing different options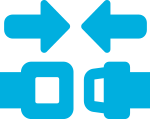 Sadly, in many cases it is human behaviour that leads to incidents, injuries and deaths in school zones. One of the first steps in assessing the safety of a school zone is monitoring how different vehicles, pedestrians and cyclists interact. Certain behaviour (such as speeding, running stop signs, illegal parking, etc.) can point to design flaws in the built environment or they can indicate a need for increased law enforcement or public education. The Canadian Automobile Association (CAA) has built a tool that is designed to be the first simple step in assessing the safety of road user behaviour in a school zone.
With CAA's School Zone Safety Assessment tool, data collection can be completed easily on a phone or tablet with internet access. All data is collected in real time and can be shared with stakeholders such as school staff, road safety advocates and local government. This means less time entering data into a database, so more energy can be put into analysing it and making improvements.
The data collected is essential in informing decisions regarding the safety of a school zone and how this can be improved. In fact, by collecting the strategic data using CAA's School Zone Safety assessment tool, CAA has already influenced decision makers resulting in reduced speed limits around schools in a Canadian province.
School Zone Safety Tool:
Provides data to government and decision-makers to help ascertain the type of intervention needed to increase safety of road user behaviour in school zones
Tracks up to 28 behaviour types and six different road user types (vehicles, school buses, motorcycles, trucks, pedestrians, cyclists etc.)
Tracks data over time to show changes in behaviour
Compares behaviour across schools or areas
Supports public education efforts by highlighting problems that need to be targeted
Star Rating for Schools and CAA's School Zone Safety Assessment Tool can be used separately, depending on the approach of your project. If applied together, they provide members with powerful evidence-based data on the safety of road infrastructure and user behaviour around a school covering two important road safety pillars. This can be used to support advocacy and interventions to improve road safety for Members and their families and reduce the devastating impact of road trauma in local communities.
For any questions, request for assistance or to share your comments with us please send us an email at [email protected].
This Toolkit has been developed by the FIA (Fédération Internationale de l'Automobile) and the iRAP (International Road Assessment Programme), with support of the Fundación RACC (Reial Automòbil Club De Catalunya) and the CAA (Canadian Automobile Association), thanks to the funding provided by the FIA Road Safety Grants Programme.