BUILDING THE FOUNDATIONS OF THE PROJECT
PARTNERS FOR SUCCESS
Effective road safety infrastructure and behaviour interventions involve a number of stakeholders working collaboratively and positively together. Understanding their capacity, goals and needs and maintaining good communication is key to avoiding conflict and gaining their support.
MAP STAKEHOLDERS
Stakeholders can be important allies when it comes to communicating the vision, objectives and results of a project to a wider audience; they may even gain more support and endorsement for the project. If an important stakeholder is not engaged throughout the process, they are more likely to prove obstructive to it.
It may be the case that key stakeholders, as local authorities, may be already aware of the road safety issue and keen on seeking solutions, but with limited budget or afraid of criticism with the project pointing out to issues on the available road infrastructure. To mitigate this issue, it is important to understand the profile of each stakeholder identified, their main concerns and solutions for each of them (e.g. seeking additional funding for road upgrades – see more at the "Secure funding" tab – or developing sensitive campaigns and communication to inform the broader audience and avoid resistance).
For a successful engagement, identify the actual problem and whether it should be addressed at a country, region or city level. A strategic approach may be starting with a pilot project to showcase the success and gain the interest of main stakeholders. List the organisations and individuals that are relevant to the school assessment project scope and establish the impact that each of them may have on the project. All stakeholders must be informed and consulted throughout the entire project. At this initial stage, it is important to have a team with good interpersonal, communication and political skills.
The major stakeholders may include:
The local community
Governmental authorities (both local and national)
Road authorities
Private organisations
Health agencies
Educational agencies
Council administrations
Local civil society organisations.
ADVOCACY STRATEGIES
Advocating for school assessments means building a persuasive case to motivate action and inspire support. The level of support that the school assessment project receives from stakeholders will depend on how well the objectives of the project are communicated.
It is important to raise awareness and develop a tailored strategy to appeal to each of the different stakeholders. Technical information should be communicated via compelling messages that help engage the stakeholders.
3 ESSENTIAL ELEMENTS FOR ADVOCACY SUCCESS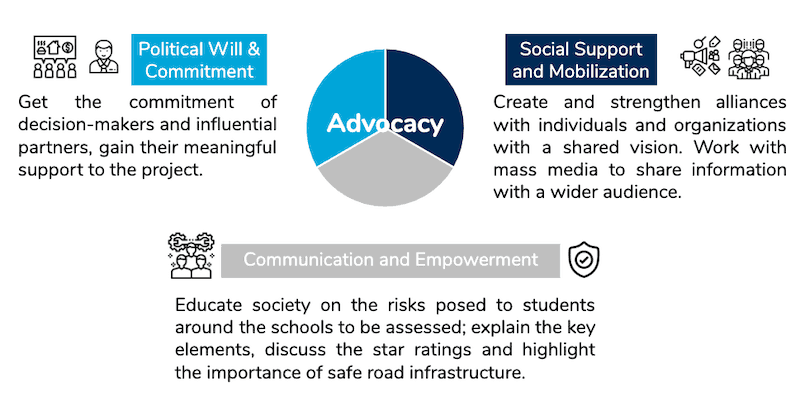 ENGAGEMENT THROUGHOUT THE PROJECT
After raising awareness with the stakeholders and gaining their support, ensure they will remain engaged through the entire duration of the project by communicating effectively and allowing the partners to actively participate at various stages of the project. It is also crucial to discuss any results with the stakeholders and encourage feedback and suggestions. This empowers the stakeholder and creates a sense of shared ownership of the project. Some of the strategies that can be adopted include:
Creating a newsletter to share updates on the project
Organising periodic meetings to communicate the status of the project to the main stakeholders and ensure their participation in the process
Offering an open channel for consultation, suggestions and clarifications, via a forum or website